THIS IS A LEGAL WAY OF BATTLING
Hello!
i am pretty sure you've never heard about this yet.
well you need this to start your Wi-Fi GBA/GBC Connection
http://www.vbalink.info/download/vbalink172l.zip
Getting Started
______________
1.Download the Emulator above.
2.Visit
http://www.whatismyip.com/
to know your IP Address not your server's
3.You Need WinRAR or Winzip to Extract the Emulator.
4.After the Emulator is Extracted, Run it.
5.There will be one server and one client to battle with each other.
Here is a Tutorial for Server
________________________
Open VBA ->Click on Link -> Click on Lan -> Restart your VBA -> Then Run vbaserver -> wait for the client to get conencted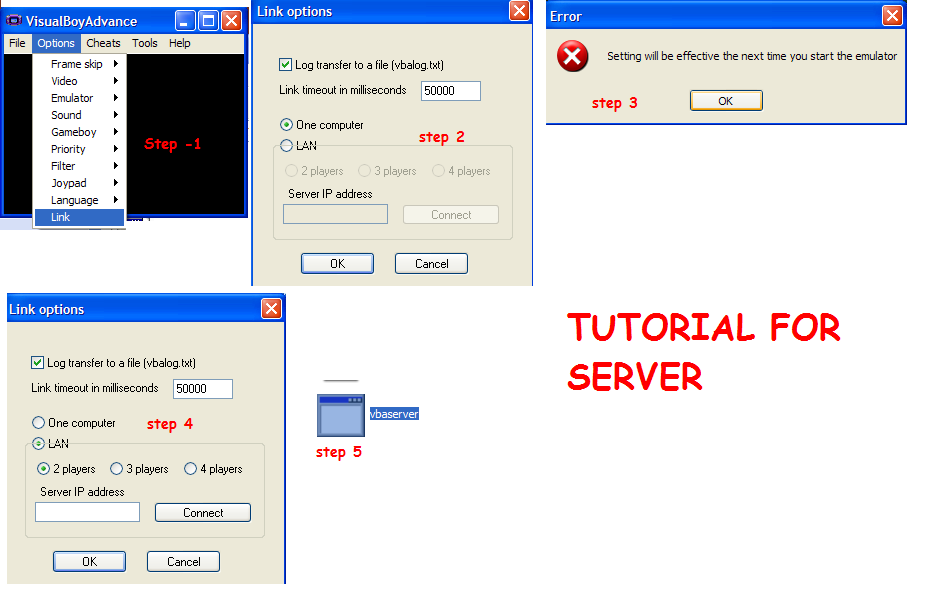 Here is a Tutorial for Client
________________________
Open VBA ->Click on Link -> Click on Lan -> Restart your VBA -> Click on Link Again, Enter Server's IP and Click Connect-> you're now connected
IMPORTANT NOTE
: Always put a greater number in Link Timout Field
ANY QUESTIONS REGARDING TO THIS WILL BE POSTED HERE ITSELF
Below is the list of Supported Games by GBA Wifi
_______________________________________________
Pokemon Fire Red
Pokemon Leaf Green
Pokemon Ruby
Pokemon Sapphire